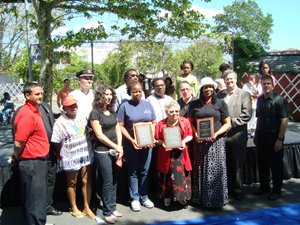 There are no brick and mortar bridges in Canarsie, a Brooklyn neighborhood of almost a hundred thousand residents. Yet, it can be justly proud of the many bridges that span cultures, ages and, most importantly, hearts. These bridges do not boast fancy architecture – their beauty is seen on the smiling faces of the local families enjoying afternoons in the park; their strength is not measured in tons, but in the ability to live together in a peaceful and safe neighborhood.

The recent Canarsie Bridge for E-newsletter1 4 Canarsie Bridges Festival, sponsored by the JCC of Canarsie, helped further unite this diverse and dynamic community, bringing together its residents for a delightful and fun-filled afternoon. The event featured rides and entertainment for kids, stimulating discussions for adults and scrumptious hot dogs, snacks and refreshments for all ages.

The Festival was made possible thanks to many wonderful individuals and organizations, most notably NY State Senator John Sampson. Present at the event were Councilman Lew Fiddler, Brooklyn Borough President Honorable Marty Markowitz, Captain Maramara of the 69th Police Precinct, and other elected official representatives and community leaders.

The Festival participants applauded the young winners of the Canarsie Bridges Art Festival. Their beautiful artwork reflected their active lives and dreams for the future. Young artists, in 2nd through 5th grades, presented impressions of life in their neighborhood as part of the "Picture Healthy Life in the Beautiful Canarsie" competition. Entries by older contestants in 6th through 9th grades, presented their solutions to our country's challenges and were submitted as part of the "Out of Disaster Comes Unity and Progress" competition.

The most original and interesting entries were created by seven of our art contestants who were presented with beautiful proclamations from State Senator Sampson, Borough President Marty Markowitz, Councilman Lew Fiddler and Councilman Alan Maisel. Each of these winners also received a valuable US Savings Bonds certificate. While the Art Contest winners represented the future leaders of the community, the Festival also provided an opportunity to recognize the hard work and dedication of some of our current community activists, who dedicate themselves to our

neighborhood each and every day. Sylvia Whiteside, President of Bayview Housing Community Association, Community Superintendent Beverly Wilkins and Valerie Wilson, the 69th Precinct Youth Officer, were presented with the Community Leadership Awards they so richly deserved.

Speaking at the event, Rabbi Avrohom Hecht of the JCC of Canarsie, called on all the community residents to work together to make this neighborhood a peaceful and safe place for our children and to further strengthen the wonderful character of Canarsie. He also thanked all the sponsors, who generously gave of their resources, time and creativity to make the Canarsie Bridges Festival the success it was.

The JCC of Canarsie would like to gratefully acknowledge the invaluable contribution of UJA-Federation of New York, State Senator John Sampson, Congressman Ed Towns, Boro President Marty Markowitz, Councilman Lew Fidler and Councilman Alan Maisel as well as Met Council, HES and Millennium Development Corporation.