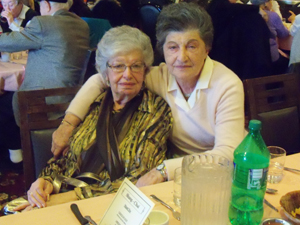 One of the most inspiring events we organize at the JCC of Canarsie is our Annual Luncheon for Holocaust Survivors. It is so uplifting to see what these precious individuals have done with their lives, turning adversity and pain into positive actions. One can only be impressed to see how they have raised families, built institutions, created communities and made better lives for themselves.

Strength and Courage. A legacy of sisterhood continues after many decades.
Yesterday, we held our luncheon at Shang Chai Restaurant in Flatbush. What an
uplifting experience it was! I can only say I feel fortunate to be part of a community where we can persevere on the shoulders of giants from the previous generations.? The JCC of Canarsie is totally committed to bettering the lives of so many people from all walks of life. Our burdens are slightly lessened when we are inspired by such wonderful people as our dear Holocaust survivors.

Special thanks to Reeves Eisen, of Councilman Lew Fidler's office, who participated in our Holocaust survivor luncheon. We truly appreciate her making time from her busy schedule to express greetings on behalf of Councilman Fidler.