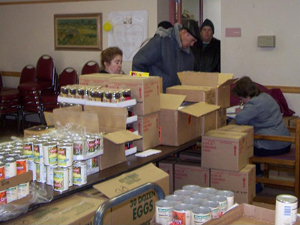 1970's, Leningrad, Russia:
A small girl hears the knock on the door. She knows the routine well: a warm greeting, some of her bubby's famous refreshments, and, finally, her "moment of glory": little Olga's "job" is to bring out the large bundle, wrapped in gray packing paper. The visitor will leave, closely guarding the precious package. Thank G-d, there will be matzos for his family this year.

2010, Brooklyn, NY: The large auditorium at the Jewish Community Council of Canarsie is filled to the brim with Passover staples. Packs of matzos, cases of grape juice, crates of fresh produceand freshly-packed meat are ready for distribution to the many seniors and low-income residents of the neighborhood. Olga Podlyubnaya, the JCC Food Pantry Coordinator, is busy taking care of the many details, involved in running such a massive operation. Her capable volunteers are ready to assist the many clients served by the JCC of Canarsie in the busy pre-Passover season. Yet there is one task she prefers to do herself: handing out the large boxes of matzos to the waiting recipients. Just like in her Russian childhood city of Leningrad, she is once again busy helping others to maintain a connection to their culture.

Every year, the Jewish Community Council of Canarsie ensures that the many Jews in need, living in the area, celebrate the holiday with dignity. "Each year, we provide the most needy members of our community with all the Passover staples," says Rabbi Avrohom Hecht, the Executive Director. "Our motto is the famous line from the Pesach Haggadah: "Everyone, who is hungry, let him come and eat."

It takes a tremendous amount of hard work, persistence and creativity to raise the necessary funds, with both Rabbi Hecht and his staff working around the clock to make the Passover food distribution a reality. This year's unprecedented rise in the number of people requiring assistance, made the task of implementing our Passover distribution even more challenging. Yet, nothing could prevent one human being from helping another.

In highlighting our extraordinary successes, our executive director Avrohom Hecht 18 noted: "Daily our dedicated staff is on the front lines of poverty and indifference. Their extreme dedication combined with the guidance and support we receive from dozens of friends enable us to be so much more effective. The JCCC is extremely grateful to our friends and supporters for enabling us to make a true difference every day .
Our partners include UJA Federation of New York, MetCouncil, NYC Human Resources Administration, NYC Department of Youth and Community Development, NYC Department for the Aging, NYS Office of Children and Family Services, NYS Office for the Aging, MAZON, Claims Conference, Brooklyn Boro President , BJ's Charitable Foundation and our devoted private donors"